Check out our prices!
We can offer you huge savings on CD duplication from January through April. Our tax software business is slow when C.P.A.s are busy.

During that time we are more interested in keeping everyone busy rather than making profits. This is an opportunity for you! If you need CDs with 1 - 300MB of information duplicated during that time of year, take a look at our CD duplication pricing.
Fast efficient equipment gets your job done quickly and accurately.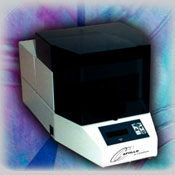 The equipment that a CD duplicator uses will be a factor in determining whether you get a good price.

We burn 50 CD without anyone present. That keeps our labor costs low. However, the length of time it takes to burn those 50 CD is dependent on the amount of information that needs to be burned. If the master has 50MB of information, we can burn 50 CD duplicates in 2.5 hours. If the master has 100MB of information, we can duplicate 50 CD in 5 hours. It is hard to beat our prices.