Worksheet Software For The Personal Use Of A Company - An Overview

Employee Auto Fringe Benefit Calculator: Quickly and easily determine how much should go on an employee's W-2 for personal use of the company car. This program also computes the lease inclusion amount.
This program is used by hundreds of accounting firms, private and publicly owned business, colleges & local governments.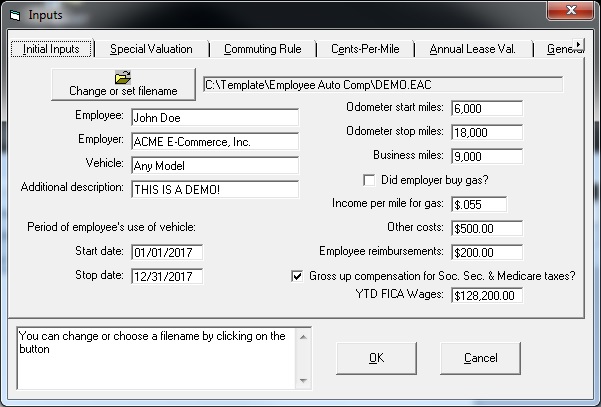 After December 31, you will probably need to make a Social Security and Medicare Tax gross up.



| | |
| --- | --- |
| | The Employee Auto Compensation Calculator Order & Download Now! Special discounted price through 4/30/2022 $89. Regular Price $119. |
The Cents-Per-Mile Method Used For The Fringe Benefit Calculation Has Changed
Before 2018, the cents-per-mile method could not be used if the car was valued at more than $21,100 ($23,300 for trucks or vans). For 2019 this limitation has more than tripled to $50,400 (IRS Notice 2019-34). More employees can use the cents-per-mile method. This amount will be adjusted for inflation in the future. The result is that more employers help their employees out by using this method. This can lower the W-2, box 1 compensation for personal use of the business vehicle.
Bad Things That Can Happen If This Computation Is Not Made
IRS Auditor Question: Show me how you computed the personal use fringe benefit for each vehicle. - This is a frequent business audit question! If the agent is looking at executive compensation, the agent will probably use the IRS's "Executive Compensation - Fringe Benefits Audit Techniques Guide." Page 4 of that guide specifically discusses personal use of a car or vehicle. Reports generated by the Employee Auto Compensation Analyzer were able to successfully defuse this issue.
If personal use of a company vehicle is not included in on W-2s, and the IRS finds this:
Employees will have to amend old tax returns, and pay tax that they didn't think that they owed. This is not good for employee moral!
Employers can be subject the §6721 penalty for failure to file a correct information return for each employee with personal use of a company vehicle.
Reviews --
"At year end we have to calculate personal use of the auto's before completing W-2s, and this program is used by everyone in the office. It saves time and is fast. We have been using this program for years. My employees remind me to reorder every year. Thank you for a great product."
Martha Lindblom, EA, Richbourg & Associates, PC, Tyler, TX
"Fast and convenient and very accurate."
October, 2006 Survey
"Quick and easy to get calculations."
October, 2006 Survey
Note: This computation has several descriptions, including auto fringe, auto fringe benefit, personal use of company vehicle.

In the "good old days" the personal use of a business vehicle wasn't an issue. Back then, the employer looked the other way. The employer got a deduction for the car. The employee got a "tax free" fringe for personal use of the company car. Of course, that tax free fringe never was supposed to be tax free at all.

Now Form 4562 has a specific section where vehicle issues need to be disclosed. It is pretty clear on that form, if the personal use of the car is not zero, the employer will have to include some amount on the W-2(s) for personal use of the vehicle(s). Failure to do that could result in penalties for the employer, additional tax (when it is least expected) for the employee, possible preparer penalties and possible dividend treatment.

The DTS Employee Auto Compensation Analyzer saves your time and reduces your frustration dealing with these calculations. The program will lead you through the qualification tests and make the calculations. The program helps you to quickly arrive at the lowest allowable fringe benefit for personal use of company vehicles.

This program also computes the auto inclusion or auto lease inclusion (vehicle inclusion or vehicle lease inclusion) amounts.

Since both the employee and the IRS might be curious how this calculation is made, the program generates excellent reports.

Report personal use of company owned auto in W-2, Box 1. It may also be optionally reported in W-2, Box 14.

Download The Manual In Adobe's Acrobat (.pdf) Format (533 KB)

|Products|DTS Home|Order|
|Free Software|Support|
| IRS Publication 15B | Other IRS Sources |
cents-per-mile, cents - per - mile, annual lease value table, commuting rule, commuting, witr.com, auto inclusion, automobile inclusion, vehicle inclusion, car inclusion, payroll, W-2, W - 2, w-2, w - 2, fringe benefits, working condition fringes, employee, employees, employer, company cars, company automobile, personal use of company car, personal use of company automobiles, personal use of company vehicles, personal use of employers cars, personal use of employers automobiles, personal use of employers vehicles, personal use of employer's car, personal use of employer's automobiles, personal use of employer's vehicles, 1.61-21, 1.61 - 21, auto fringe benefits, automobile fringe benefits, vehicle fringe benefits, fringe benefit for automobiles, fringe benefit for cars, fringe benefit for vehicles, employes, comute, comuting, comutting